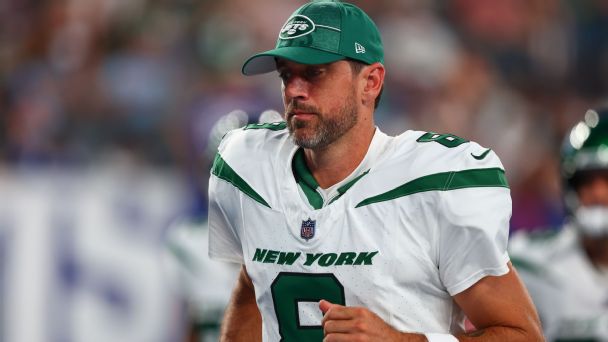 FRISCO, Texas — Despite the history involved, or maybe because of it, Dallas Cowboys linebacker Micah Parsons is a little disappointed he will not be playing against Aaron Rodgers when the New York Jets come to AT&T Stadium on Sunday (4:25 p.m. ET, CBS).
"I know how great he is and I loved the matchup last year," Parsons said of the 31-28 overtime loss to Rodgers when the quarterback was still with the Green Bay Packers. "It left a bitter taste and people always talk about how Rodgers dominates Dallas when he plays in Dallas, so it would've been nice to break that curse. But I hope he gets healthy and I hope he comes back next year."
Rodgers' season ended against the Buffalo Bills on Monday night when he suffered a torn left Achilles four plays into his tenure with the Jets. But he has an 8-2 record as a starter against the Cowboys, including a pair of playoff wins. In total, he has 17 touchdown passes and two interceptions against Dallas. He has had 100 straight regular-season passes against the Cowboys without an interception.
And now the Cowboys have to get ready for Zach Wilson, who has 54,893 fewer yards and 459 fewer touchdown passes than Rodgers.
"I can't really say what they will or won't do based on Aaron not being there," safety Jayron Kearse said. "Aaron played four snaps for the New York Jets, so you don't have much tape on him as a New York Jet anyway. I don't know if the game plan is going to change or stay the same, but I know my only job is to go out there and do my job and play good football for the Dallas Cowboys' defense."
Coach Mike McCarthy acknowledged his defense was excited about the challenge of facing Rodgers.
"That's only natural to play against a great player," McCarthy said. "But at the end of the day, we need to get to 2-0. Our focus has been good. That's what we're looking at."
For McCarthy, Rodgers' absence is more personal. He was Rodgers' coach with the Packers from 2006 to 2018. They won Super Bowl XLV together and went to four NFC Championship Games. When he saw Rodgers go down Monday, he thought of a 2018 matchup against the Chicago Bears when he was told at halftime that Rodgers was done for the season with a knee injury only to see him throw for three touchdowns in the second half and not miss a game.
"That's what I was hoping was going to happen," McCarthy said.
Then reality hit when the diagnosis was a torn Achilles. McCarthy sent a text message to Rodgers, expressing his sorrow. Before the Cowboys played the Packers last season at Lambeau Field, McCarthy and Rodgers were able to share a private moment together. Then Rodgers threw three touchdown passes, including two in the fourth quarter to overcome a 28-14 Cowboys lead on the way to the Packers' overtime victory.
"It's great to compete against people you care about. Him and I have been through a lot together," McCarthy said. "I have a tremendous amount of love for him. This is tough. I know he was very excited about this chapter in his life, and I was looking forward to seeing him this weekend. You can see how precious these opportunities are. Every game is such a special opportunity, to compete in this league. I think we're all feeling for him personally."
Multiple Cowboys defenders said Rodgers' absence could inspire the Jets.
"I feel like they got something even more to fight for," nose tackle Johnathan Hankins said. "They ain't got their captain, their leader, out there. They're going to look at it as if he was playing and just take that mindset and go out there and compete."
Even if Rodgers were available, the Cowboys anticipate the Jets would look to rely on running backs Breece Hall and Dalvin Cook. Hall had 127 yards against the Bills, including an 83-yarder.
The Jets also feature one of the game's top young wide receivers in Garrett Wilson, who won Offensive Rookie of the Year in 2022 and made a tremendous catch on a fade ball for a touchdown from Wilson last week. Wilson will also have some veterans to look at in Randall Cobb, Allen Lazard and Mecole Hardman Jr.
"I mean, if Aaron Rodgers was playing, what would we be talking about, how we're going to be stopping the pass?" DeMarcus Lawrence wondered. "I feel like we have a defense capable of stopping anything. Just all about us going out there and doing it."
In the Cowboys' 40-0 Week 1 win against the New York Giants, the defense was dominant. It recorded the franchise's first season-opening shutout since 1995. It had the second-most sacks (seven) in a season opener in team history. It had three takeaways. The Giants' offense had 11 plays with negative yards.
Whether Rodgers played or not, that was something the defense wanted to repeat in Week 2.
"It's not, 'Oh, we're going in to play a great game,' and then, 'Ah, we played a great game, and now we're relaxing,'" Kearse said. "Nah, we're trying to do this for 20-plus games, because we know in order to get to where we need to get to, we have to continue to do this. It can't be a one-and-done thing. It can't be an every-two-week thing. It has to be a thing continuously, week in, week out."