[ad_1]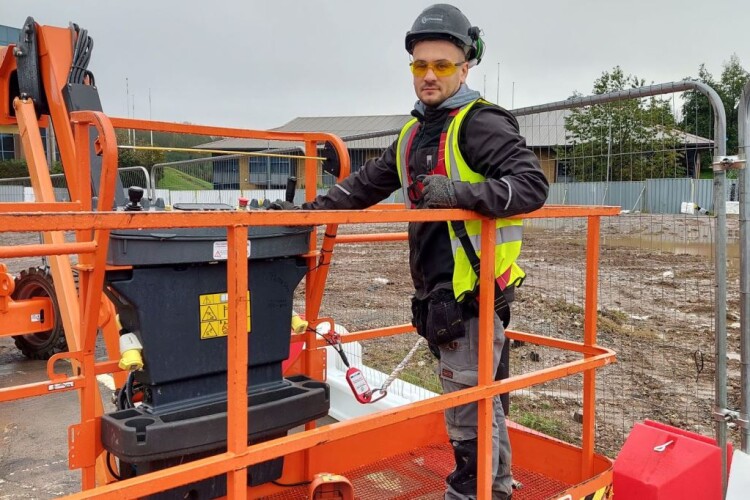 The Harness On system, developed by hire company Nationwide Platforms, prevents the basket controls of a mobile elevating work platform (MEWP) from working unless the operator's harness lanyard is correctly attached to a special intelligent anchor point.
The device's inductive ring provides a complete connection via the carabiner on a harness, allowing an electrical current to flow and switch a MEWP on. Without it, the machine cannot work.
It was developed by Nationwide in conjunction with Chinese MEWP manufacturer Dingli and US aviation specialist Control Dynamics Inc (CDI). It is based on technology used in the aviation sector for ground crew. An early adopter of the system was Balfour Beatty but Willmott Dixon is believed to be the first major construction company to mandate it.
Willmott Dixon now bans any elevating boom lift from its sites that is not equipped with the Harness On device.
The wearing of harnesses has been shown to be a significant life saver for MEWP operators. Without them, they can easily be bounced out of a raised boom in the event of a collision.
According to the International Powered Access Federation (IPAF), which collates global statistics on accidents and near-misses involving MEWPs, falls from a mobile platform remain the most common cause of access-related incidents resulting in major injury or death. 
Willmott Dixon chief health, safety & environment officer Mark French said: "The annual IPAF Global Safety Report continues to show the significant numbers of incidents involving people working at height using mobile platforms, mostly caused by falls. We strive to take a zero-tolerance approach to the risk of this happening and were delighted to work with Nationwide Platforms in getting its new Harness ON system in use across all our projects.
"I think we are the first Tier one contractor to mandate this system across our business and supply chain. Safeguarding the health and wellbeing of our supply chain team on our construction sites is paramount and this is an excellent new way for those who use MEWPs to carry out their work."
[ad_2]

Source link