[ad_1]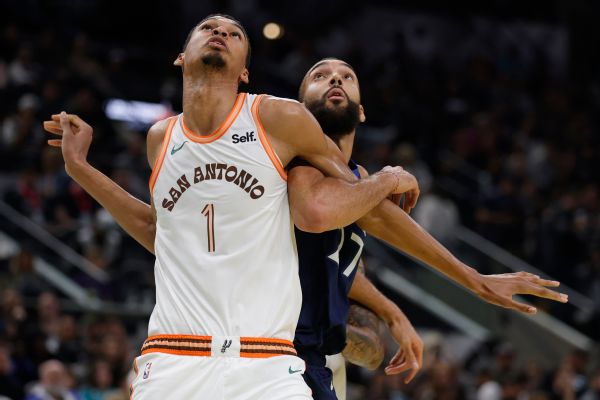 SAN ANTONIO — Following Friday night's game between the Minnesota Timberwolves and San Antonio Spurs, two very large countrymen stood at halfcourt of the Frost Bank Center.
The 31-year-old, 7-foot-1 Rudy Gobert and the 19-year-old, 7-foot-4 Victor Wembanyama swapped jerseys and exchanged pleasantries before heading their separate ways.
The two natives of France went toe-to-toe throughout the night, but Gobert's Wolves got the better of Wembanyama's Spurs, winning 117-110 in the first in-season tournament game for both teams.
"It feels special," Wembanyama said of his first professional encounter against Gobert, a three-time NBA Defensive Player of the Year. "I know every night there's going to be one or two guys who are special to play against. But even more, it's someone that over the years has tried to take care of me and teach me some stuff. It was even more special and challenging."
Wembanyama, who carried Gobert's jersey with him to the podium following the game, finished with 29 points, 9 rebounds, 4 assists and 4 blocks as the Spurs' comeback attempt came up short.
Three of those blocks came against Gobert — one in the first quarter and two in the fourth. According to ESPN Stats & Information research, it was only the eighth time in Gobert's career he was blocked by the same player at least three times in one game.
"I think his positioning is way ahead of the positioning of a rookie," Gobert said. "You can tell that he is well coached and also that he is studying the game. That will only get better throughout the year. He's already affecting [shots], he's already getting in people's minds a bit defensively.
"He's going to be a real, real problem. He's already a problem, but I think he's going to be a real, real problem really soon."
Wembanyama said the blocks on Gobert didn't mean much in the moment, but perhaps they will when he reflects on the game later on.
Gobert, who had 11 points and 10 rebounds, said he thought Wembanyama had a good game and tried to force him into difficult shots as much as he could.
"So I'm really happy and proud of the way he's evolving and his progression," Gobert said.
Wembanyama scored 13 of his 29 points in the fourth quarter as the Spurs tried to reclaim the lead. San Antonio led by as much as 10 in the second quarter before Minnesota took control. The Timberwolves flipped the script and were up by as many as 18 in the fourth quarter before San Antonio made a push.
The Wembanyama-led charge cut the Wolves' lead to as little as six in the final minute before Minnesota pulled away.
"That's what he lives for," Gobert said. "He lives for those moments. He's a competitor. He's a winner. All those things that, like I said, the way he works, his mindset, the way he studies the game. You add that to obviously the unique physical tools that he has. And I don't think we're going to see something like that for a while."
Gobert said he's tried to give Wembanyama as much advice as he could throughout the years, especially about his body. He said it's difficult as a 7-plus footer in the NBA, and he could already see what work Wembanyama has done since the summer.
"His approach, his dedication, the work that he puts in, the work he put in the last three months since the draft is paying off," Gobert said. "I saw a big difference from between summer league and preseason. You can tell he was in the gym, and not just in the gym, but he was doing the right thing.
"It's hard to imagine what it's going to be — and he will — after a couple years of working like he's doing. I can't even imagine how he's going to evolve."
[ad_2]

Source link