President Biden's niece emailed Hunter Biden and the president of his company information about China Investment Corporation (CIC), China's largest sovereign wealth fund, when she was serving in the U.S. Treasury Department during the Obama-Biden administration.
Casey Owens was serving as a special assistant for the U.S.-China Strategic and Economic Dialogue at the Treasury Department when she discussed the CIC, which is state-owned and manages part of the Chinese government's foreign exchange reserves, with Hunter and his longtime business partner, Eric Schwerin.
At the time, Hunter's now-defunct Rosemont Seneca Advisors, where Schwerin served as president, was courting the CIC for potential investments.
ERIC SCHWERIN'S ROLE IN HUNTER BIDEN'S BUSINESS DEALS COULD BE MISSING KEY IN GOP INVESTIGATIONS
On April 12, 2010, Owens emailed Hunter and Schwerin a schedule from a CIC investment conference that took place a couple of weeks earlier.
"FYI on recent CIC investment conference at a resort in Sanya, on Hainan Island, over the weekend of March 27-28," Owens wrote.
A Thornton Group press release dated that same day – April 12, 2010 – said the company's chairman, James Bulger, and Hunter visited Beijing just three days earlier and met with CIC Chief Investment Officer Gao Xiqing, among others, according to the Republican Senate report released in September 2020.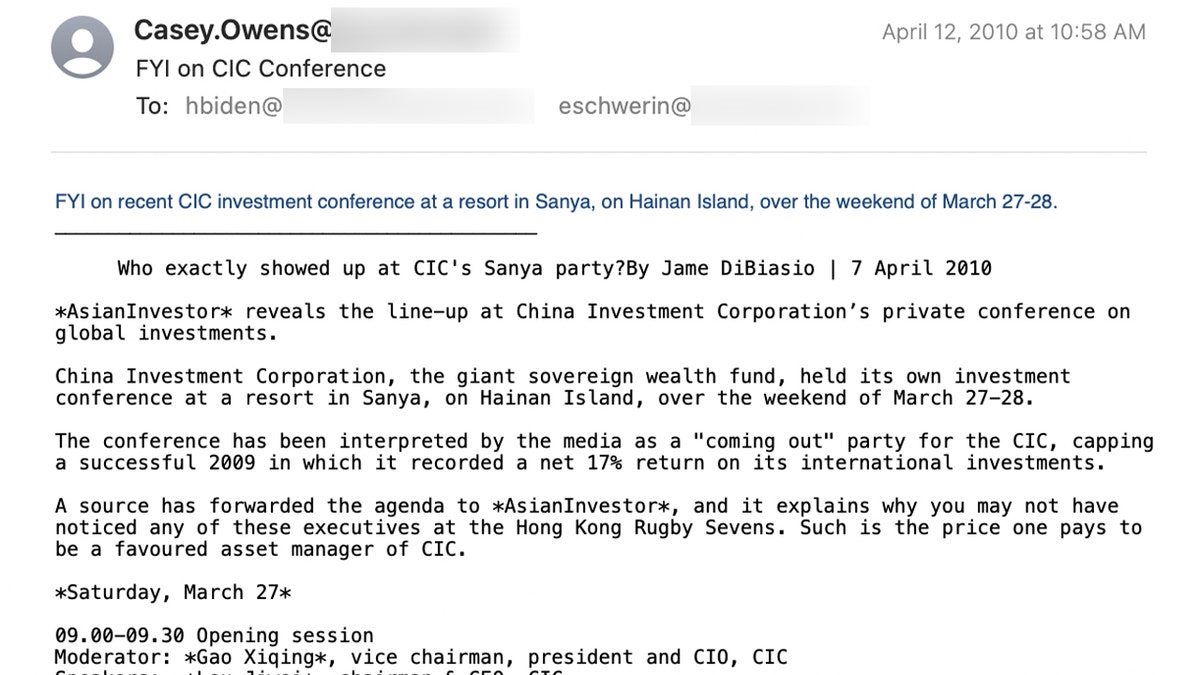 A feature article about Owens published months later by the Tower Hill Bulletin said she and her team had traveled to Beijing in May 2010 with a U.S. delegation led by Treasury Secretary Timothy Geithner.
A photo of Owens in the article showed her receiving a "small jade vase as a birthday gift" from China's then-vice minister of finance, Zhu Guangyao. According to the Ministry of Finance website, its primary function is to implement the decisions and policies of the Chinese Communist Party in the area of public finance.
'MONEY GUY': THIS HUNTER BIDEN BUSINESS PARTNER COULD BLOW THE LID OFF BIDEN FAMILY'S BUSINESS DEALINGS
The Bulletin article said Owens' team and Zhu "worked very closely during the U.S.-China Strategic and Economic Dialogue." 
Weeks after returning from Beijing, Owens emailed Schwerin a Bloomberg News article about CIC, titled, "China's CIC May Post Record Year for 2009 as Markets Recover," which Schwerin then forwarded to Hunter on July 23, 2010.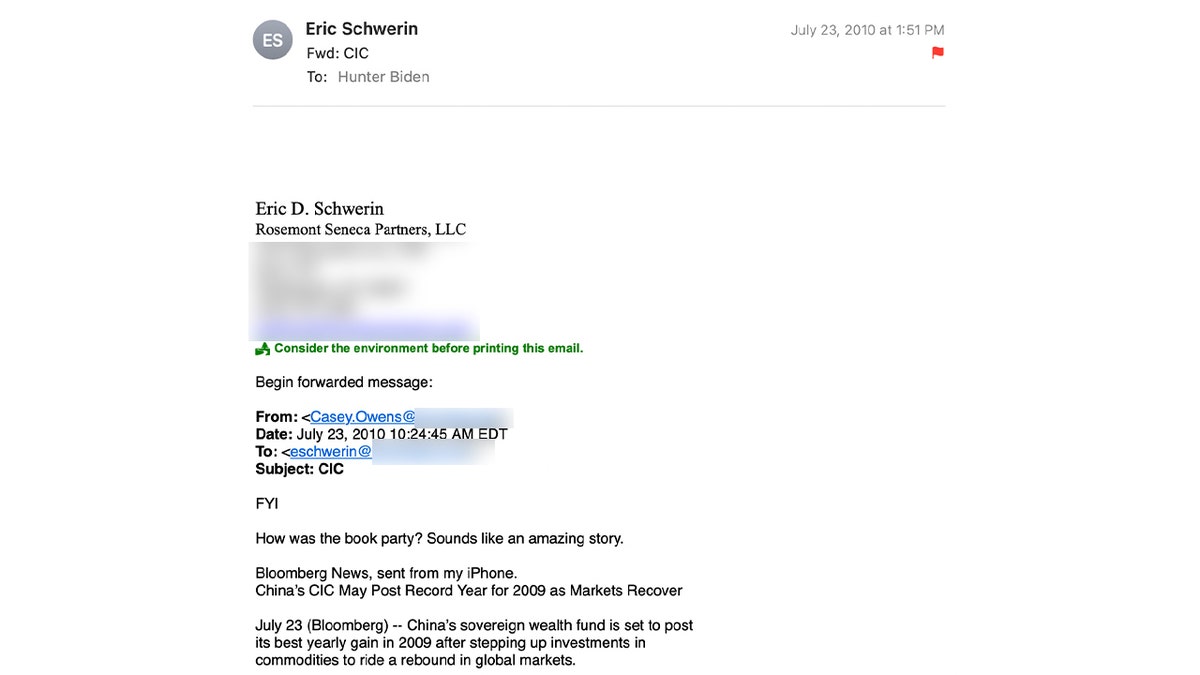 Then on Aug. 4, 2010, Schwerin introduced Owens to Meridian Investments Vice Chairman Jack Casey via email after Schwerin said he had a conversation with him earlier that day about "GSEs and China." 
"Jack," Schwerin wrote. "Good seeing you at lunch today. Per our conversation regarding GSEs and China, I wanted to put you in touch with Hunter's cousin, Casey Owens, who is at the Treasury Department and works on the Strategic Economic Dialogue. I have cc:ed Casey on this email. Feel free to reach out to her directly, she's expecting to hear from you."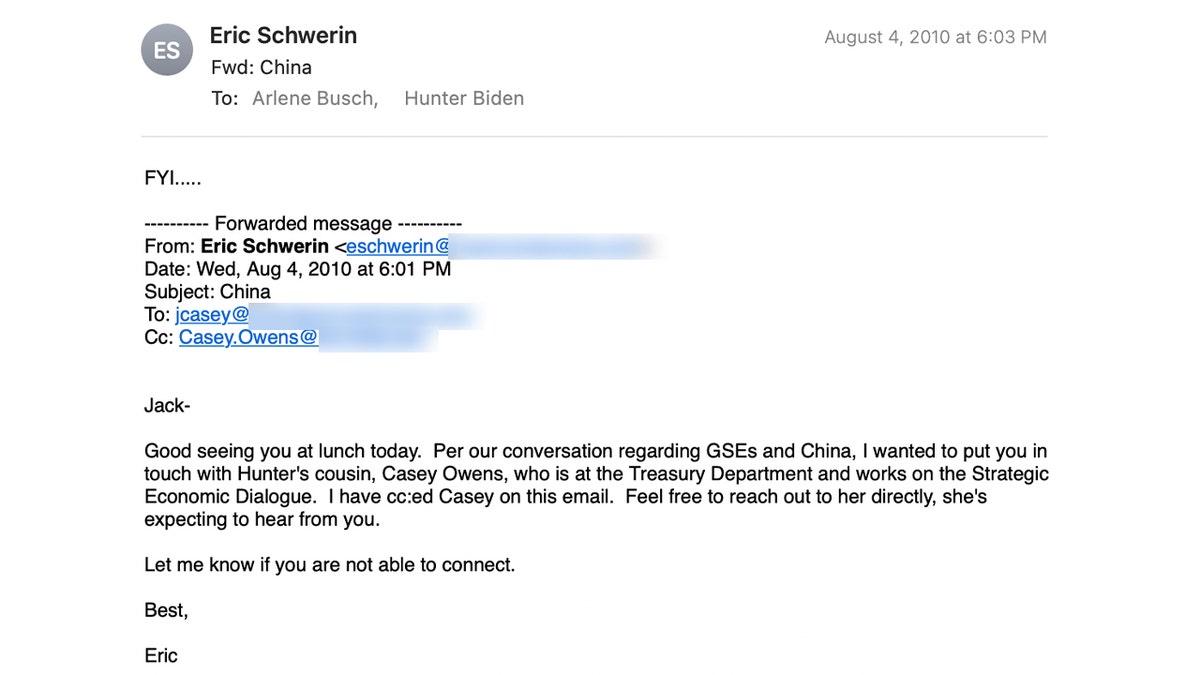 "Jack, Happy to speak at your convenience," Owens responded the next morning. "Best, Casey."
Schwerin later forwarded the email thread to Hunter.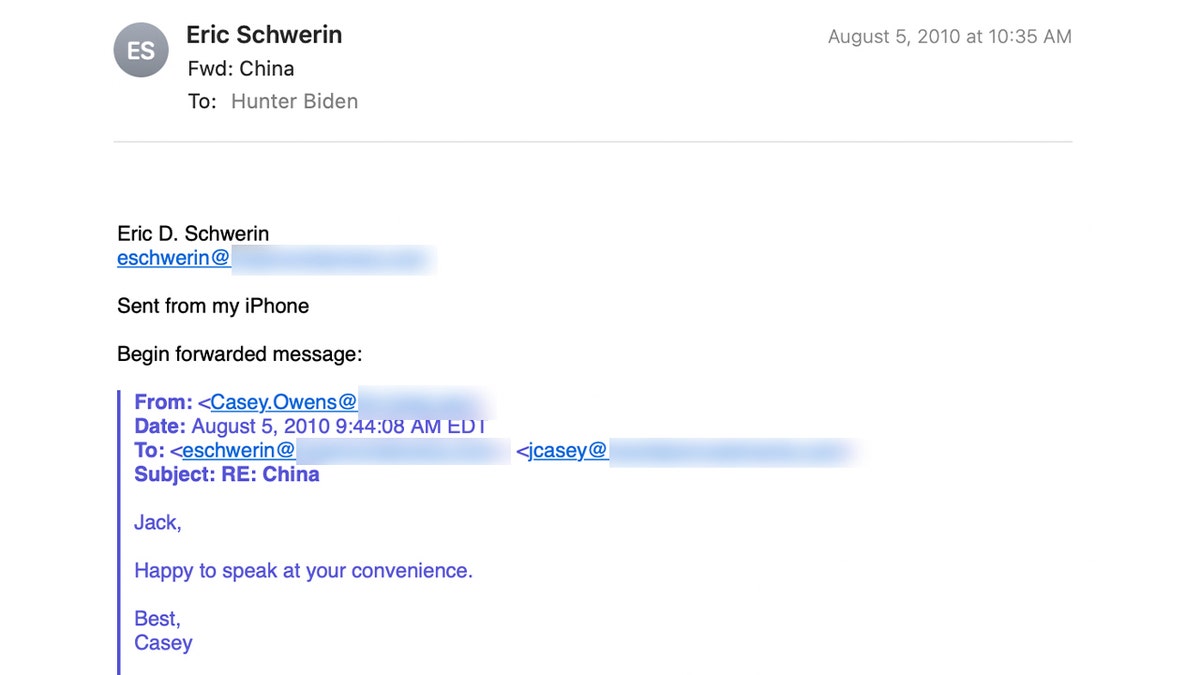 A person familiar with Rosemont Seneca's interest in CIC told Fox News Digital that Owens was most likely giving the company intel to increase their likelihood of getting CIC to invest in its fund clients. However, the person said they are not aware of the company making any deals with CIC.
Fox News Digital previously reported that in early 2011, Hunter and his partners at Rosemont Seneca had discussed making contacts to expand their energy investments in various state-owned investment funds, including in China, Ireland, Oman and Qatar.
On March 8, 2011, Schwerin sent Hunter and Rosemont Seneca co-founder Devon Archer an email containing the Sovereign Wealth Fund Institute's (SWFI) current list of the top sovereign wealth funds, which are state-owned, and their rankings at the time.
"Let's discuss today what else we can be doing to connect with these groups," Archer responded, adding that Rosemont Seneca was "already working" with several funds on the list, including two in China.
Archer's March 2011 email to Hunter and Schwerin added he was scheduling a meeting for that April with the CIC.
"CIC- scheduling meeting for April 21st," Archer wrote.
The SWFI list said CIC had over $332 billion in assets at the time of Archer's email.
The New York Post previously reported that Hunter and Archer traveled to China and met with the CIC in April 2011.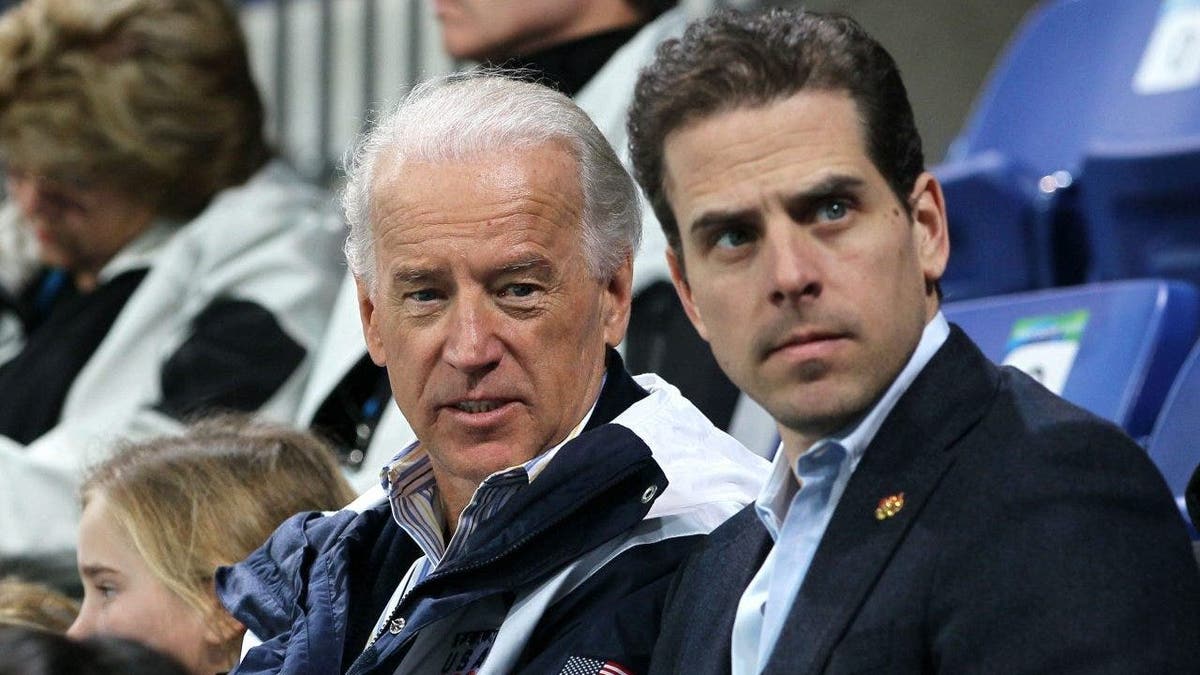 On May 10, 2011, just before she left the Treasury, Owens emailed an account with the nickname "Uncle Joe" at auks@att.blackberry.net, and she talked about the vice president's remarks a day earlier during the opening session of the U.S.-China Strategic and Economic Dialogue.
"Uncle Joe," Owens wrote. "Just got home from work and couldn't wait to send you an email. Today was truly a memorable day for me. I keep thinking about Mommom. Can you imagine her seeing us huddled up back stage together? She would have loved it. It chokes me up. I have so much to learn! Sitting back there with you was very, very humbling. I was just blown away. You ALWAYS make time to talk to me. Always. But today was really incredible. I still can't believe you took the time to discuss the issues with me."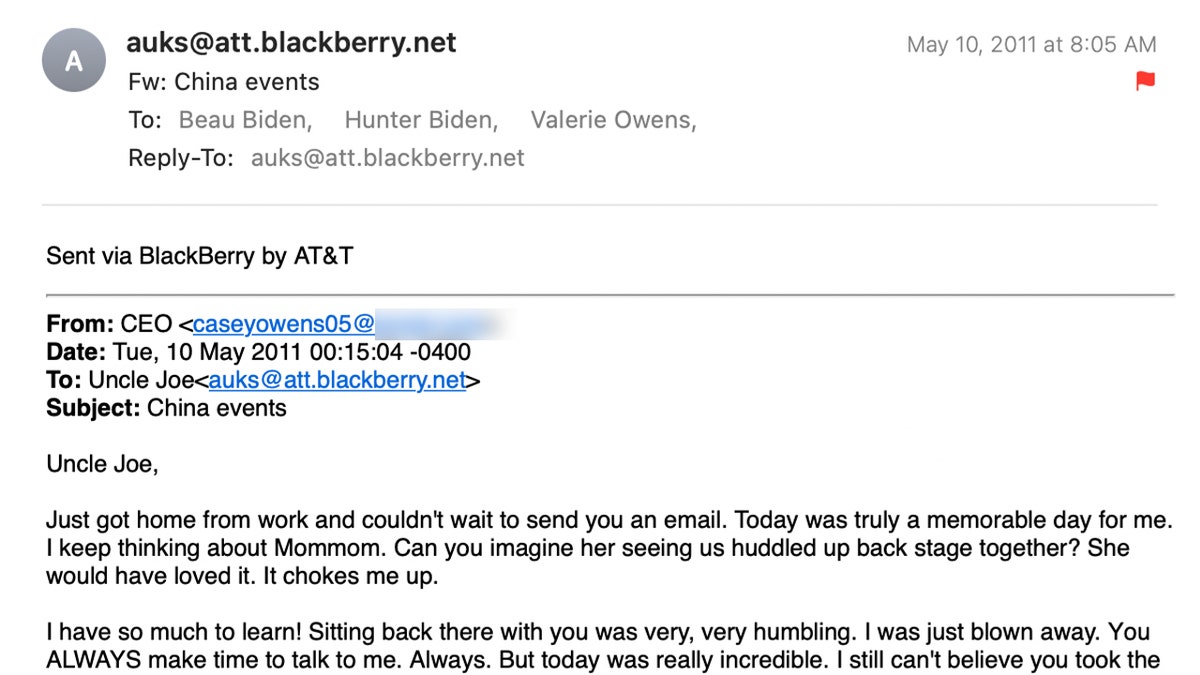 "And your remarks," she continued. "That was really something else, Uncle Joe. What a way to exit the Treasury. I'm almost embarrassed by how deeply today has impacted me. I'm simply happy to be close to you, and I just wanted to say thank you for including me. Love Casey."
The "auks" account later forwarded Owens' email to Hunter, Beau Biden and Valerie Biden Owens, Owens' mother.
According to Marco Polo, the "auks" account is another pseudonym used by the then–vice president and appears in multiple email exchanges on Hunter's laptop. "Auks" is the mascot of Archmere Academy, where Biden and his son attended high school.
CLICK HERE TO GET THE FOX NEWS APP
Owens, who now goes by Castello, left the Treasury in July 2011 and is currently an executive at Starbucks, according to her LinkedIn profile.
Owens, Casey, Schwerin, the Treasury, the White House and Hunter's lawyer did not respond to Fox News Digital's requests for comment.