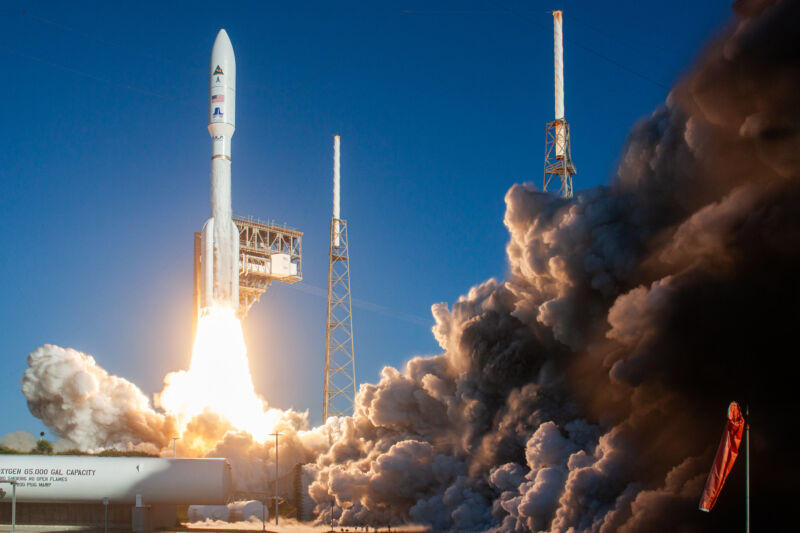 United Launch Alliance's Atlas V rocket returned to action Sunday with a mission to deploy multiple satellites into geosynchronous orbit for the National Reconnaissance Office and the US Space Force.
This mission ended a 10-month gap in launches for ULA's primary rocket, the longest period between Atlas V launches in 20 years as the company winds down the Atlas V program in favor of the new Vulcan rocket. There are still 18 more Atlas V flights on ULA's launch schedule—all are reserved by customers—primarily carrying satellites for Amazon's Kuiper broadband network and launching astronauts on Boeing's long-delayed Starliner crew capsule.
ULA, a 50-50 joint venture between Boeing and Lockheed Martin, has several Atlas V rockets in storage at Cape Canaveral. Customer delays are the main reason ULA hasn't launched any Atlas V rockets since last November. At one point, Boeing's Starliner crew capsule was supposed to launch with astronauts for the first time on top of an Atlas V rocket earlier this year, but that test flight is now delayed into 2024. Another US Space Force mission has also been delayed for months and now likely won't fly until early 2024.
The mission that launched Sunday for the NRO, which owns the US government's fleet of spy satellites, was delayed from August 29 to allow ULA to move the rocket back to its hangar for shelter from Hurricane Idalia. The NRO is usually tight-lipped about its super-secret space missions, but the spy satellite agency decided to open up a bit about this launch. The satellites on-board the Atlas V mission, which the NRO called "Silent Barker," will track the movements of other spacecraft in geosynchronous orbit, with a special emphasis on Chinese and Russian satellite activity.
Finally, with the Atlas V back on the launch pad, the rocket ignited its Russian-made RD-180 main engine and five strap-on solid-fueled boosters at 8:47 am EDT (12:47 UTC) Monday to climb away from Cape Canaveral Space Force Station, Florida. The 196-foot-tall (60-meter) rocket arced toward the east through a clear sky, then jettisoned its five boosters to fall into the Atlantic Ocean. A few moments later, the Atlas V released its payload fairing, then its first stage separated to allow a Centaur upper stage to continue accelerating into orbit.
Multiple burns by the Centaur upper stage's RL10 engine, made by Aerojet Rocketdyne, placed the satellites for the NRO and the Space Force into an orbit close to geosynchronous altitude roughly 22,000 miles (36,000 kilometers) over the equator. It took about six hours for the rocket to deploy the payloads into the proper orbit, and officials declared success Sunday afternoon. These missions directly to geosynchronous orbits are particularly challenging, and SpaceX's Falcon Heavy and ULA's Atlas V and Delta IV rockets are the only US launch vehicles currently flying that have demonstrated their ability to accomplish this task.
"We specialize in complex high-energy orbits, and the team is proud to have launched this mission direct to geosynchronous Earth orbit (GEO) to meet our nation's space protection needs," said Gary Wentz, ULA's vice president of government and commercial programs, in a post-launch press release.
Atlas V will fly for many more years
ULA has spent nearly a decade trying to wean itself off of the Russian engines that power the Atlas V rocket. The number of Atlas V rockets left for ULA to fly—18—was determined by the number of Russian RD-180 engines left in ULA's inventory. The new Vulcan rocket will have methane-fueled BE-4 engines built by Blue Origin, Jeff Bezos's space company.
While the Atlas V has a finite number of launches remaining, it's likely that the rocket will still be in service as the 2020s draw to a close. That's because Boeing's Starliner crew capsule is slated to launch seven times on Atlas V rockets, with one crew test flight followed by six operational crew rotation missions to the International Space Station.
Once Starliner is operational, NASA plans to alternate between SpaceX's Crew Dragon spacecraft and Boeing's Starliner for crew transportation services to the space station. With space station expeditions lasting about six months, on average, that means Starliner will fly about once per year. That could put the final Starliner flight on the current contract in 2030, when NASA and its partners currently plan to decommission the International Space Station.
While it doesn't seem ideal to keep a legacy rocket program flying when its replacement will presumably be launching on a regular basis, ULA says this isn't such a big deal. The final slate of Atlas V missions will use the same launch pad as the new Vulcan rocket at Cape Canaveral, and the company says it can support launches on a cadence of every two weeks or so without any major reconfiguration at the launch site.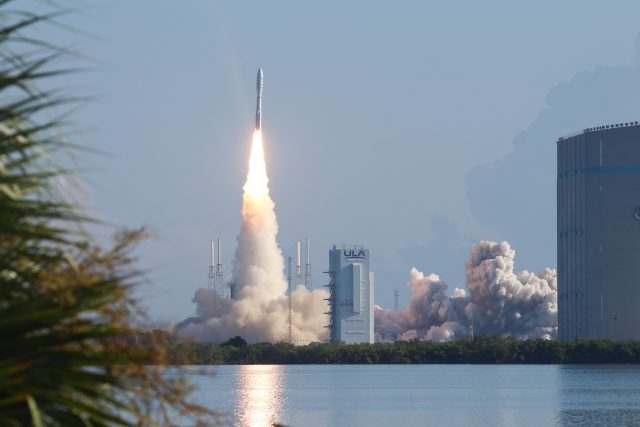 The launch Sunday was the 98th Atlas V mission overall and the final Atlas V launch for the NRO. That leaves just two Atlas V rockets left to fly for customers other than Boeing and Amazon, which has reserved nine Atlas Vs for its initial batches of Internet satellites for the Kuiper broadband network. The first of those missions for Amazon will launch in early October. Viasat and the Space Force each have one Atlas V flight remaining on contract.
ULA's other rocket, the Delta IV, will retire next year after one additional mission for the NRO.