[ad_1]

If you identify as one of the horological-obsessed, no doubt you've already spent a great deal of time on Hodinkee daydreaming of exceptional timepieces. I know I have. Conversely, if your interests align with graphic design trends, you've likely perused the work of lo-fi cult graphic design outfit, Online Ceramics. Guilty again. Somehow the two brands have come to intersect at the nexus of musician John Mayer, a devotee and avid collector of wristwatches of all varieties, including the classic digital Casio G-SHOCK, to drop the limited edition G-SHOCK Ref. 5600 by Online Ceramics for Hodinkee.
The watch blog has been in cahoots with the impressively obsessive and knowledgeable Mayer for the last few years, a partnership that has bore fruits in the form of two of three planned limited edition Casio G-SHOCK wristwatches. The newly revealed G-SHOCK Ref. 5600 By Online Ceramics Limited Edition For Hodinkee is as gloriously green as the previous G-SHOCK Ref. 6900 – Subtract By Ed Sheeran For Hodinkee is yellow. Like Mayer's enthusiasm, the new collaboration design won us over with some of its more subtle detailing reflective of the kookier left field ethos associated with the Online Ceramics vibe.
We're excited to unveil the latest collaboration with Hodinkee and Online Ceramics' imaginative touch. This series represents a collective journey of imagination, with each collaborator leaving an indelible mark on the G-SHOCK legacy. We look forward to the third and final chapter, as we continue to reimagine the intersection of creativity, innovation, and timekeeping.
-Tadashi Shibuya, Vice President, Casio Timepiece Division
Founded in 2016 by Elijah Funk and Alix Ross, Online Ceramics built a rabid following with their free-spirited style of graphic design, emphasizing bold typography with psychedelic+horror focused imagery. And we're happy to see the duo has lent some of that same idiosyncratic style to their special edition G-SHOCK 5600.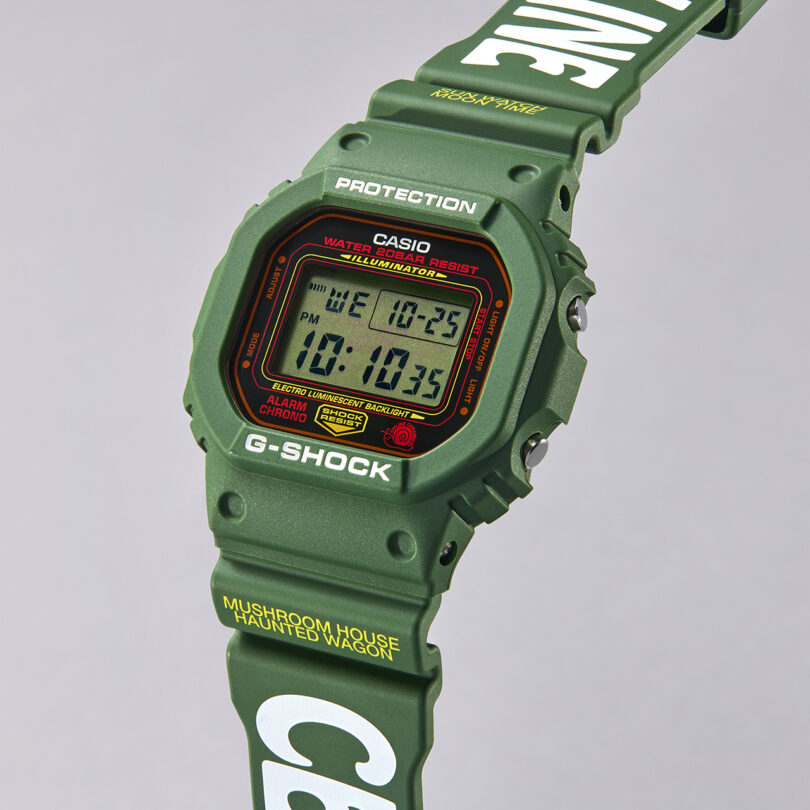 A pair of existential messages adorn the wristband in yellow san serif type: "Mushroom House Haunted Wagon" and "Sun Watch, Moon Time," with a small red snail logo rewarding the keen eyed.
Additionally, a surprise easter egg awaits when the watch's backlight is activated, displaying "Love Grows in the Sunshine." It's weird in a delightful way, but also completely aligned with Online Ceramics' catalog of arcane-esoteric messaging, sure to make the watch one of the more popular collectibles commemorating Casio G-SHOCK's 40th anniversary.
The G-SHOCK Ref. 5600 By Online Ceramics is available now for $185 at the Hodinkee Shop, Online Ceramics, and Casio.com.
This post contains affiliate links, so if you make a purchase from an affiliate link, we earn a commission. Thanks for supporting Design Milk!
[ad_2]

Source link