[ad_1]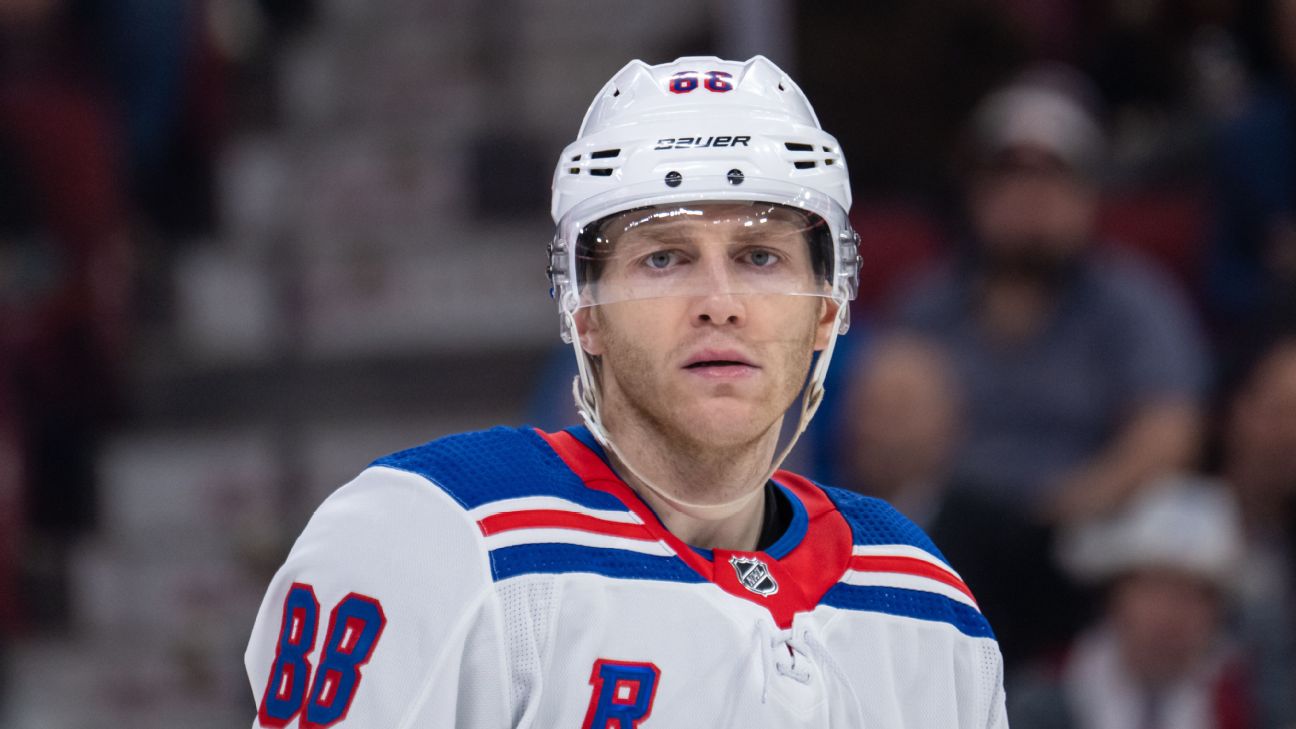 As we head to Thanksgiving — the NHL's typical barometer for whether a team is well-positioned for a playoff berth or not — there have been plenty of surprises around the NHL. Behind the scenes, teams have been working the phones getting a gauge of the trade market, though we likely won't see much movement until December, when teams can accrue more cap space. In the meantime, here are other rumblings I've been hearing at rinks around the NHL.
---
Kane decision coming soon?
The Patrick Kane watch is officially on. A decision could come within the next few days, and if there's any delay, it's only because Kane's new team needs to clear cap space.
I believe Kane wanted to run it back with the New York Rangers — especially since his post-trade deadline play was so frustrating for him, hampered by his hip. But it sounds like GM Chris Drury told him the team wouldn't be able to make it work with the cap (or the Rangers boss just wasn't willing to take the risk again, especially with how well the team is jelling with new coach Peter Laviolette). I've reported before on interest from the Buffalo Sabres, Detroit Red Wings and Dallas Stars. Kane reportedly met with the Toronto Maple Leafs this week; he's been training in Toronto. Kane has a relationship with fellow American star Auston Matthews. Kane has previously talked about his desire to team up with Matthews at world competitions. Toronto would be a juicy fit, but the Leafs' top priority is shoring up the blue line. Other teams have told me they believe the Colorado Avalanche and Tampa Bay Lightning are in the mix. It's hard for me to gauge how real the Carolina Hurricanes' interest is. The team I believe that has made the most aggressive pitch to Kane is the Florida Panthers. And here's what that pitch has included:
For years, the Panthers have been looking for a consistent linemate for Aleksander Barkov. Few players can match Barkov's on-ice intelligence; Kane can. If Kane is looking for a long-term deal — which he might considering how unsettling it was for him to uproot his family during the last deadline after playing in Chicago his entire career — the Panthers are set up to contend for the next few years. Barkov and Matthew Tkachuk are both locked in long term. Florida has become a destination for players, especially as they open a new practice facility on Dec. 1 in Ft. Lauderdale, where most of the players live.
The reason the Panthers are in the mix for Kane is because they've asserted themselves as a true contender. Many around the league figured Florida would have a drop off following its Cinderella Stanley Cup Final run — especially since the team began the season without its two best defensemen, Aaron Ekblad and Brandon Montour, who both had summer shoulder surgeries. But the Panthers defensive metrics are strong. It took an adjustment period for the team to adapt to Paul Maurice's system. It's demanding, both mentally and physically. It requires awareness, sacrifice and grind. Maurice often uses the term: "Be hard men." Even if the Panthers are the more talented team, the players know they need to work to get the win. The results have spoken for themselves.
---
Rumblings from Edmonton
Every season in the NHL, there's one worst-kept secret. This season, it's that Hall of Famer Ken Holland is in the final year of his contract as general manager of the Edmonton Oilers and the expectation is he moves on — either to retirement or a more advisory role. The Edmonton front office is already bracing for change, bringing in Jeff Jackson — Connor McDavid's agent — as CEO of hockey operations this summer.
In Holland's nearly three-decade career as an executive, it's not his style to fire a coach after 13 games. But the Oilers did not want to give up on the season, and since trades (especially for goalies) couldn't materialize early, they decided to move on from Jay Woodcroft. The Oilers hired Kris Knoblauch, who was a riser in the coaching ranks. But equally notable: Knoblauch is McDavid's former junior coach.
I'm told that McDavid is uncomfortable with the perception that he orchestrated this move, seeing that it's his ex-agent making the call and his ex-junior coach who got hired. McDavid is the ultimate hockey player who doesn't want to put self above team, and despises the thought of preferential treatment. But he does get preferential treatment, and he should. He scored 150 points last season. He's the most talented player in the league and the Oilers are desperate to win a Cup with him. Leon Draisaitl's contract is up in 2025 and McDavid's is up in 2026, and the Oilers need to do everything in their power to stay competitive in that span to convince both players to stay.
---
What's going on with Zegras in Anaheim?
The rebuilding Anaheim Ducks have been one of the best stories of the young season — with six third-period comeback wins in their first 15 games, despite being underdogs in all but one. As of today, they're improbably in playoff position. But the Ducks have done this all largely without production from one of their brightest stars: Trevor Zegras. Their leading scorer last season, who was on the cover of EA 2023, has just two points (one goal, one assist) in 12 games and is currently on injured reserve with a lower body injury. So what's going on?
I don't think the 22-year-old's start is quite as alarming as the stats suggest. For starters, I believe he's been dealing with this injury for a few weeks — about half of his games — which offers some explanation. Much was made about Zegras' benching in the game against Columbus on Oct. 25, but he also played very well in the two games preceding it. The coaching staff has been harping on certain details, such as puck battles, and Zegras has been focusing on that. He's been playing much stronger defensively than in season's past. As for the offense? Zegras has a 3.3 shooting percentage, which is pretty unlucky, but he's creating chances. Sounds like if he returns healthy and continues on the path he's on, he's confident the production will follow.
---
Bedard shines in Florida
Connor Bedard's Florida road trip — two multiple goal games, including a four-point night against the Tampa Bay Lightning — felt like a turning point for the 18-year-old. It signaled the first time we've seen the rookie truly take over a game, and it won't be the last. For coach Luke Richardson, it signaled the next evolution of Bedard's game — aggressiveness to get the puck.
The coaching staff has told Bedard: "Don't wait for the four other guys to work to get you the puck. Go in there and forecheck and steal pucks." In both games, Bedard moved his feet more defensively, putting his head down and backchecking hard. And the coaching staff thinks Bedard's efforts are setting the tone for his teammates.
"He's used to playing two-minute shifts in junior and conserving energy," Richardson told me. "He doesn't need to do that here anymore. Use your energy and conservation to get the puck back yourself and make something happen." For the record, Bedard's average shift length entering Thursday was exactly one minute — which ranks fourth in the league amongst forwards, only trailing the Minnesota Wild trio of Kirill Kaprizov, Matt Boldy and Mats Zuccarello.
---
Some advice for Poitras
While 19-year-old Matt Poitras has been a darling in Boston since training camp, coach Jim Montgomery knows what's inevitable. "He's going to hit the rookie wall," Montgomery told me earlier this month. "Every rookie does."
So the team is making sure the young center has the resources to mitigate that. The Bruins are lucky they have so many alumni who are still in Boston and still engaged with the team. Montgomery has talked to the recently retired Patrice Bergeron about mentoring Poitras and talking to him about certain aspects like faceoffs. "Patrice said, 'Monty, I don't want to watch all of your games,'" Montgomery laughed. "And I said, 'That's fine. I just want you to impart your knowledge.' So I hope Matt does reach out."
[ad_2]

Source link