[ad_1]

Fresh off its critically acclaimed live-action adaptation of the hugely popular anime series One Piece, Netflix has released the first official teaser for yet another live-action adaptation: Avatar: The Last Airbender, based on the animated Nickelodeon TV series of the same name. As we've noted before, Netflix has a mixed track record for these anime adaptations, but if the teaser is any indication, The Last Airbender could join One Piece as another smashing success for the streaming platform.
(Some spoilers for the anime series below, but no major reveals.)
Created by Michael Dante DiMartino and Bryan Konietzko, the original anime series was set in an Asian-inspired world where certain chosen individuals have the ability to telekinetically manipulate one of four elements (earth, air, water, and fire)—a practice known as "bending." Each generation, there is one Avatar who can bend all four elements and is thus responsible for maintaining harmony among the four elemental nations, as well as being a link between the physical and spirit worlds.
A 12-year-old Air Nomad boy named Aang is the current Avatar, but he hid in a state of suspended animation for a century because he was afraid of taking on that huge responsibility. Two Water Tribe siblings, Katara and Sokka, eventually revive Aang, who finds that the Fire Nation has wiped out most of the Air Nomads in his absence. Katara and Sokka join Aang, an airbender, on his quest to master bending each of the remaining three elements. Their mission is hampered by the banished Fire Nation Prince Zuko, who seeks to capture Aang to restore his honor with his father, Fire Lord Ozai, with the help of his uncle Iroh.
The anime Last Airbender premiered on Nickelodeon in February 2005 and ran for three seasons, each covering Aang's quest to master one of the other three elements (Water, Earth, Fire). It was hugely popular and critically acclaimed, earning praise for its sophisticated (yet child-friendly) storytelling, universal themes, and skillful incorporation of East Asian art and mythology. Netflix added all three seasons (61 episodes) of The Last Airbender to its streaming library in 2020, and within four days, the anime series hit the top spot on the platform and spent 60 days in the top-10 list. Netflix understandably greenlit a live-action adaptation.
This isn't the first attempt to adapt the series into a live-action format. M. Night Shyamalan directed a truly terrible 2010 feature film that was roundly panned by critics and viewers alike. We hesitate to even mention it except as a cautionary tale and a reminder of what Netflix is up against in terms of winning over fans of the original series. It's difficult to overstate just how poorly received Shyamalan's Last Airbender was—it has a 5 percent approval on Rotten Tomatoes and pretty much swept that year's Golden Raspberry Awards, including a special award created just for that film (Worst Eye-Gouging Mis-Use of 3D). Dev Patel, who played Prince Zuko, publicly expressed regret for appearing in the film. Shyamalan also regretted taking on the directing job and started financing his own projects as a result.
Gordon Cormier seems perfectly cast as Avatar Aang.


Netflix

Kiawentiio plays Katara, the last waterbender of her tribe, while Ian Ousley plays her brother, Sokka.


Netflix

General Iroh (Paul Sun-Hyung Lee) and Prince Zuko (Dallas Liu) of the Fire Nation are hunting the Avatar.


Netflix

Maria Zhang plays Suki, who leads the all-female Kyoshi Warriors.


Netflix

Aang, Katara, and Sokka ride their trusty Appa to fulfill Aang's destiny as the Avatar.


Netflix
The Netflix series had a bit of a rocky start when DiMartino and Konietzko departed as showrunners in 2020, citing the ubiquitous "creative differences." (DiMartino also complained on his website about a "negative and unsupporting" environment at the streaming platform.) Albert Kim (Sleepy Hollow) came on board as showrunner the following year, emphasizing his commitment to authenticity (including not whitewashing the cast) and respect for the characters and cultural influences. The series purportedly cost $15 million for each of its eight episodes, so Netflix has a lot riding on The Last Airbender. Per the official premise:
The four nations of the world once lived in harmony, with the Avatar, master of all four elements, keeping peace between them. But everything changed when the Fire Nation attacked and wiped out the Air Nomads, the first step taken by the firebenders towards conquering the world. Avatar: The Last Airbender follows a young Air Nomad named Aang, as he reawakens to a world ravaged by war. Together with his newfound friends Sokka and Katara, he embarks on an action-packed quest to take his rightful place as the next Avatar.
Gordon Cormier stars as Avatar Aang; Kiawentiio plays Katara; Ian Ousley plays Sokka; Dallas Liu plays Prince Zuko; and Paul Sun-Hyung Lee plays General Iroh. The cast also includes Daniel Dae Kim as Fire Lord Ozai; Ken Leung as Zuko's arch-rival Commander Zhao; Elizabeth Yu as Princess Azula; Maria Zhang as Suki, who leads the all-female Kyoshi Warriors; Amber Midthunder as Princess Yue; Danny Audi as an inventor known as The Mechanist; Utkarsh Ambudkar as King Bumi; George Takei as Koh the Face Stealer; and Randall Dun Kim as the owl spirit Wan Shi Tong, who is in charge of the Spirit Library.
Avatar: The Last Airbender will debut on Netflix on February 22, 2024.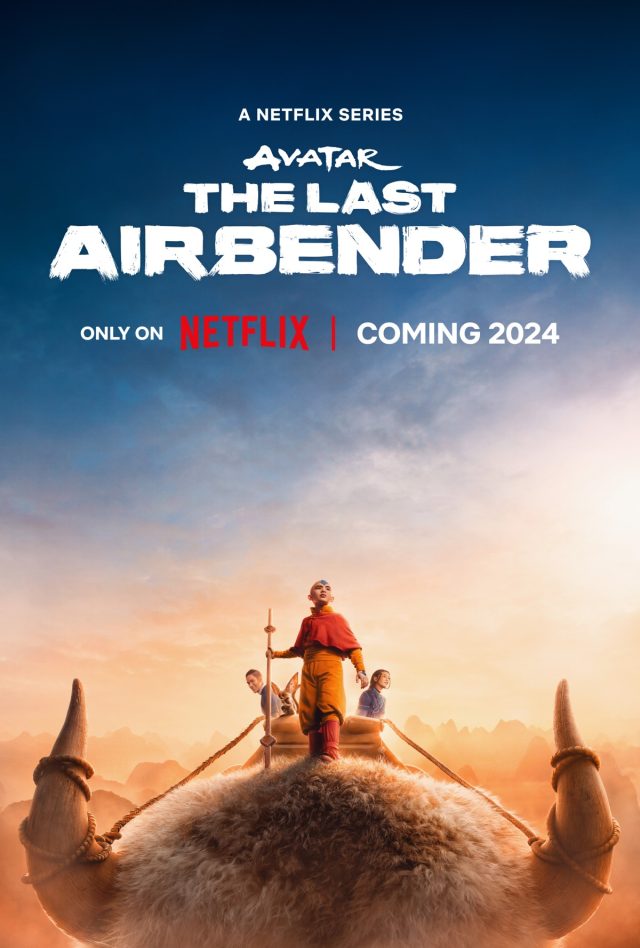 Listing image by Netflix
[ad_2]

Source link