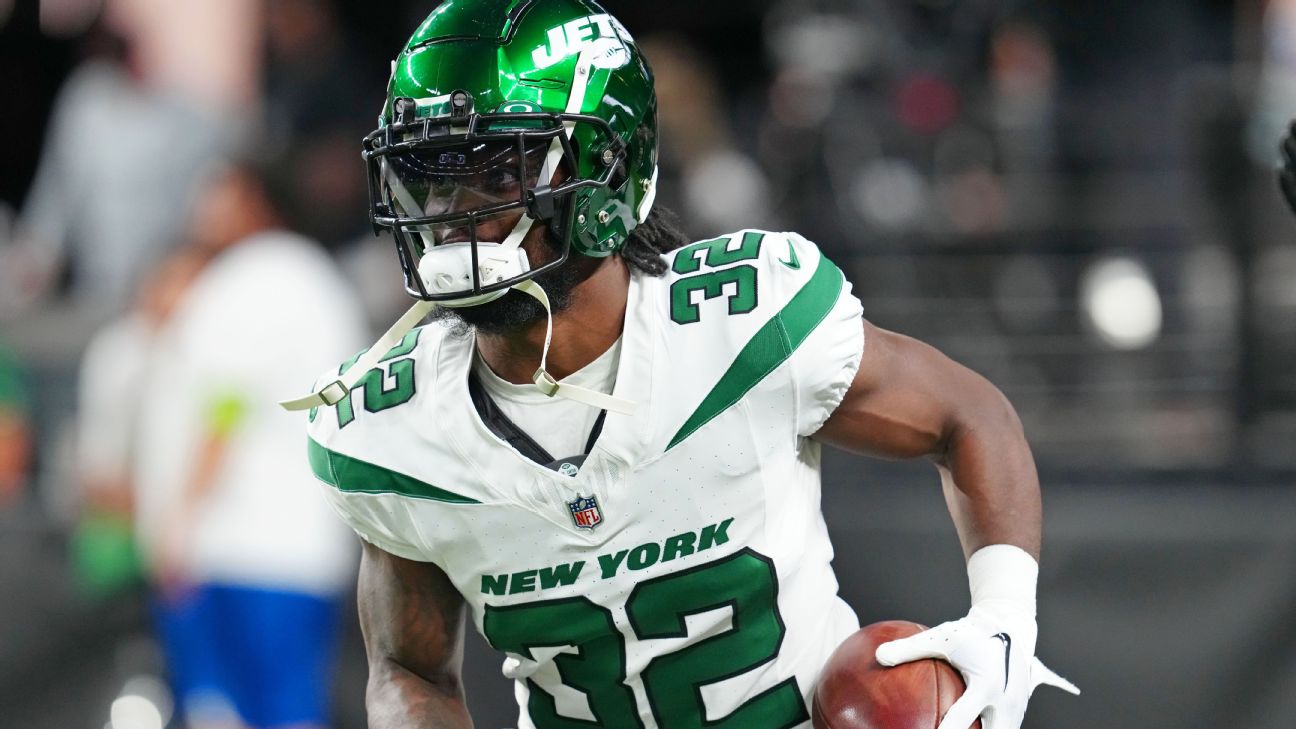 With their season at a crisis point, the New York Jets held a players-only meeting Tuesday and — in a surprising move — waived running back Michael Carter.
The Jets (4-5) have lost two straight games without scoring a touchdown, prompting the players to gather on their scheduled day off.
"The guys talked, and we had the floor," wide receiver Garrett Wilson said during his weekly spot on the "Bart & Hahn Show" on ESPN New York radio. "It was just us. We got to make sure we're all on the same page about where we're at and how the hell we get out of this funk, man. That was really the message. When it comes from one of your teammates, it always hits different. It always resonates a little bit more."
Wilson suggested late Sunday night, in the aftermath of a 16-12 road loss to the Las Vegas Raiders, that a players-only meeting would be beneficial. A few hours after the meeting, the Jets announced Carter's release, which stunned the locker room. Tackle Mekhi Becton said on X, "This one hurts the most. I can't even lie."
On Monday, coach Robert Saleh hinted that changes could be coming. Carter, a 2021 fourth-round pick and the team's leading rusher in 2021, was benched after committing a chop-block penalty early in the third quarter Sunday night. The Jets' third-down back, Carter wound up playing only eight snaps on offense in the game.
Carter's ouster does two things: It sends a message to the underperforming offense, and it opens a spot for rookie Israel Abanikanda, a fifth-round pick from Pitt who was inactive for the first nine games. He's expected to join starter Breece Hall and Dalvin Cook in the backfield.
The Jets, who lost quarterback Aaron Rodgers to a torn Achilles in Week 1, have produced a league-low eight touchdowns with Zach Wilson at QB.
Speaking for the offense, Garrett Wilson said the players are "truly sorry about the product we've put on the field offensively this season to this point." The Jets are on the road against the struggling Buffalo Bills (5-5) on Sunday.
In the past two games, the Jets have almost as many penalties (17) as points (18). The penalties, especially on offense, have become a major issue, underscoring a possible lack of focus. The players decided to talk it out among themselves.
"We don't want to finish the season and look back like we should've done this earlier … so let's talk about it now," Garrett Wilson said. "Hopefully, it leads to results, but the reality of us doing that and doing the right thing as far as calling a players-only meeting and talking, it doesn't guarantee anything. We still have to go out and do it, but we're taking the right steps and we're turning over every stone because it matters to us."
On Monday, Saleh backed embattled quarterback Wilson, saying, "I've never felt like making one guy the fall guy is going to make everyone around him better." But Saleh made it sound like other players were fair game, saying the staff was considering "some different personnel changes."
"We're looking at some things, some different personnel changes, which I'm going to keep here with me, but we're looking across the board to see if we can find a way to generate some offense," Saleh said.
In his third-down role, Carter wasn't productive this season, managing only 15 receptions for 68 yards. He also had two dropped passes. As a runner, he carried only eight times for 38 yards.
Carter showed promise as a rookie, leading the team with 639 rushing yards and catching 36 passes for 325 yards. His role changed in 2022, when the Jets drafted Hall in the second round. Carter wasn't happy when the Jets traded for James Robinson during the 2022 season, and he was passed over again when they signed Cook this preseason. He got into a heated exchange with running backs coach Taylor Embree during a Week 3 loss to the New England Patriots.
Despite his lack of experience, Abanikanda possesses high-end speed. Perhaps the Jets are hoping he can spark their offense, which has gone 11 straight quarters without a touchdown.