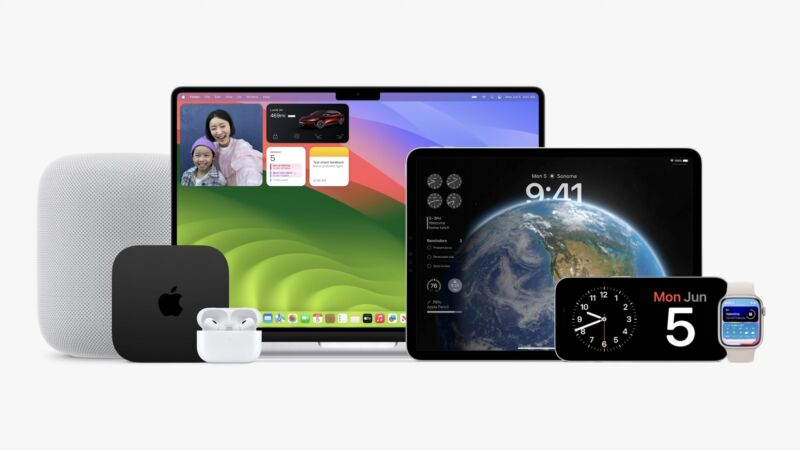 Apple is releasing the initial versions of most of its major operating system updates today, following its announcement at the company's Worldwide Developers Conference in June and the unveiling of new iPhone and Apple Watch hardware last week. Compatible devices can now download the iOS 17, iPadOS 17, watchOS 10, and tvOS 17 updates without signing up for one of Apple's beta programs.
The iOS 17 update this year is fairly mild; it includes a smart-display-esque feature called StandBy that can keep your screen on when your phone is plugged in and placed on a stand, plus "contact posters" that display full-screen photos when someone in your contacts list is calling, improved autocorrect, and live voicemail transcription.
Many of iOS 17's announced features, including a new journaling app, several Messages improvements, and Internet-enabled AirDrop transfers, will come in later iOS 17 releases. This is a typical practice for Apple, though the list of "later this year" features (via MacRumors) seems longer than usual.
The iOS 17 update is compatible with the following iPhones, ending support for models like the iPhone 8 and iPhone X:
All iPhone 11, 12, 13, 14, and 15-series phones
iPhone XS and XR
2nd- and 3rd-generation iPhone SE
Apple's iPadOS update includes most of the same improvements as iOS 17, but its headlining feature is something that the iPhone got last year—customizable lock screens, complete with user-configurable widgets. Widgets on your home screen are also interactive now instead of merely being informational stubs that open an app when tapped. Apple has also made mild improvements to the Stage Manager multitasking system for the M1 and M2-based iPads that can use it.
The iPadOS 17 update will run on these iPads, dropping support for 2017's 5th-gen iPad and the very first generation of iPad Pros:
2nd-generation iPad Pro and newer (the 10.5-inch iPad Pro is supported, but the original 9.7-inch iPad Pro is not).
3rd-generation iPad Air and newer
5th-generation iPad mini and newer
6th-generation iPad and newer
In contrast to the sleepy iOS and iPadOS updates, watchOS 10 is a fairly major overhaul, rethinking many of the watch's built-in apps and changing how the device's buttons work. The side button is now used exclusively to launch the Control Center, while the digital crown can be pressed to bring up a list of apps or turned to scroll through a list of widgets called the "Smart Stack." New watch faces and workouts have been added, too, along with features intended to help track your mental health.
Compatibility is easy for watchOS 10; it will run on anything currently using watchOS 9. That includes all Series 4-and-up Apple Watches, plus all models of the Apple Watch SE and Apple Watch Ultra. You also need an iPhone that can run iOS 17.
Finally, the tvOS 17 update adds a handful of new things, including an implementation of the Control Center, the ability for the 4K models to use FaceTime when paired with a compatible iPhone or iPad, and a "find my remote" feature that lets newer iPhones target 2nd-generation-or-newer Siri Remotes with pinpoint precision. It also adds a sixth column of app icons, improving information density on your home screen.
Like watchOS 10, the new tvOS release will work on anything that runs tvOS 16, going back to 2015's 4th-generation 1080p-only Apple TV box.
The only missing piece of the puzzle is macOS Sonoma, which is being released a little over a week from today on September 26. It's normal for the Mac's new software to trail the updates for Apple's other, larger platforms, but this is still ahead of schedule relative to the last few macOS releases, which have all come out in October.