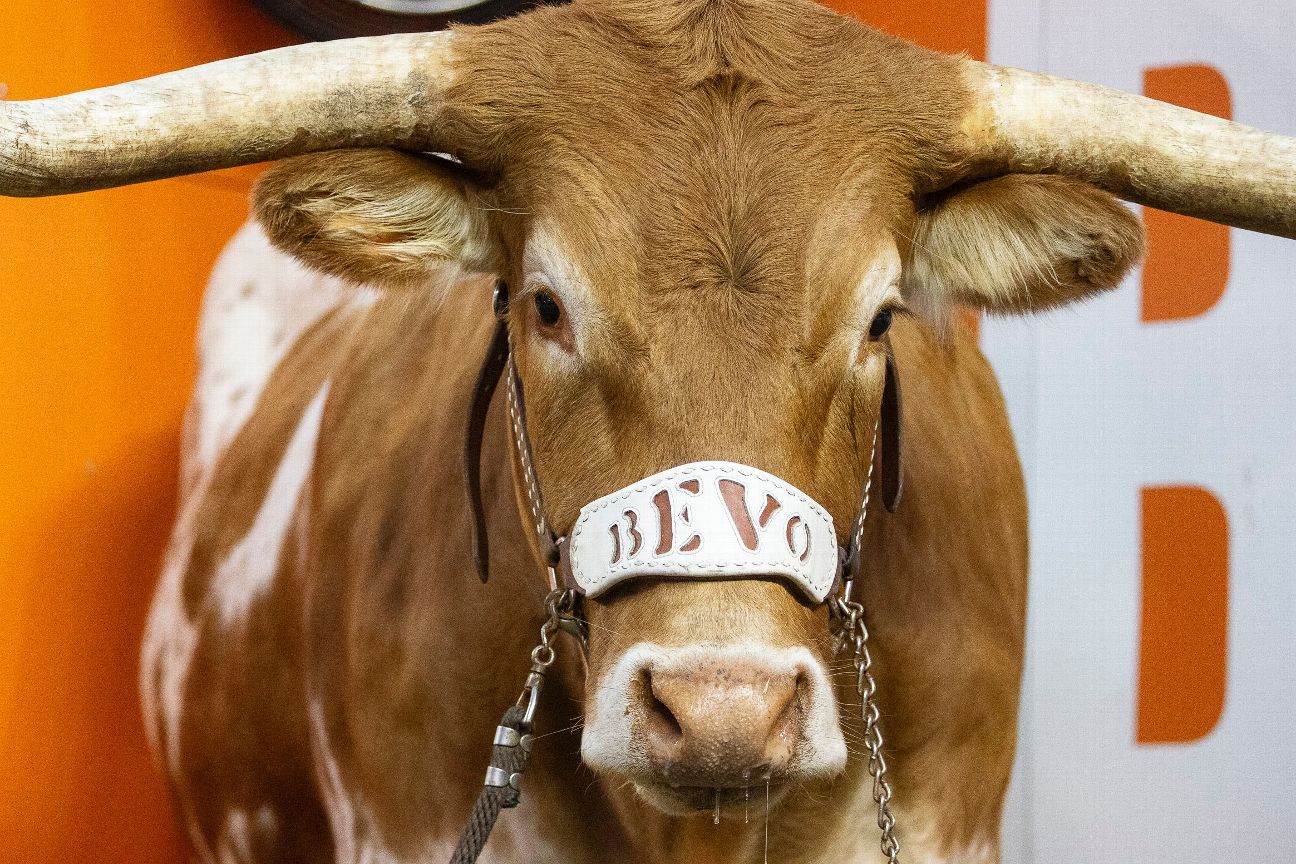 The Texas Longhorns jumped seven spots to No. 4 in The Associated Press college football poll Sunday after beating Alabama, and the Pac-12 became just the second conference to place as many as eight teams in an AP Top 25.
Georgia received 55 first-place votes to remain the clear No. 1. Michigan was No. 2, with two first-place votes. No. 3 Florida State moved up a spot and received three first-place votes.
Texas received two first-place votes after its biggest regular-season victory in years. The Longhorns are in the top five for the first time since starting the 2010 season at No. 5 and have their highest ranking since finishing No. 2 after losing the BCS Championship Game to Alabama in 2009.
Behind quarterback Quinn Ewers, Texas became the first team to beat Alabama by double digits on its home field under coach Nick Saban.
The loss dropped Alabama seven spots to No. 10, its lowest ranking since early last November, when the Crimson Tide also were 10th.
USC moved up a spot to No. 5, giving the top five representation from each Power 5 conference for the first time since Sept. 24, 2017.
No conference has more teams in the Top 25 than the Pac-12, which is in its last season with its current membership before 10 schools depart for other leagues in 2024.
Only the SEC had ever placed as many eight teams in a single Top 25, doing it 21 times with a record 10 in September 2015.
In this week's poll, Washington is No. 8, Utah is 12th, Oregon is 13th, Oregon State is No. 16, and Colorado has risen to 18th. Moving into the rankings are Washington State at No. 23 and UCLA at No. 24.
The Pac-12's previous high was six ranked teams, achieved multiple times including last week.
Oregon State and Washington State are the only members of the conference committed to it beyond this school year and would like to preserve the Pac-12, but whether its Power 5 status can be preserved remains to be seen.
After Washington State beat Wisconsin on Saturday night, Cougars coach Jake Dickert noted his school's unfortunate position.
"We belong in the Power 5," Dickert told ESPN among a swarm of Cougars, who rushed the field in Pullman.
No. 6 Ohio State, No. 7 Penn State and No. 9 Notre Dame round out the top 10.
Poll points
Alabama's streak of top-10 rankings is at 128, which dates to the 2015 season. The Crimson Tide's streak is the second-longest in AP poll history behind Miami's 137 from 1985 to 1993.
The next five longest streaks of appearing in the top five: Clemson (97, 2015-21); Nebraska (96, 1993-98); Florida (81, 1992-97).
Moving in
UCLA and Washington State were two of four teams to move into the rankings this week.
No. 22 Miami is ranked for the first time since last September, when it fell out of the AP Top 25 after losing at Texas A&M. The Hurricanes beat the Aggies on Saturday to move back in and knock out A&M.
Miami and Florida State are both ranked in the regular season for the first time since Sept. 18, 2017.
No. 25 Iowa slipped back in after falling out last week. The Hawkeyes beat Iowa State on Saturday.
Moving out
Falling out along with Texas A&M were Wisconsin, which lost at Washington State, and Tulane, which lost at home to Ole Miss.
Clemson also slipped out of the rankings, ending a streak of 21 appearances. The Tigers barely held on to a spot in the poll at No. 25 last week following an opening loss to Duke. Their rout of Charleston Southern on Saturday wasn't enough to keep them ranked.
Conference call
With Tulane dropping out, there are no ranked teams from conferences outside the Power 5. The last time that happened was a little less than a year ago, though three Group of 5 conference teams ended up finishing the season ranked.
Behind the Pac-12's eight ranked teams is the SEC (five), ACC (four), Big Ten (four) and Big 12 (three).