[ad_1]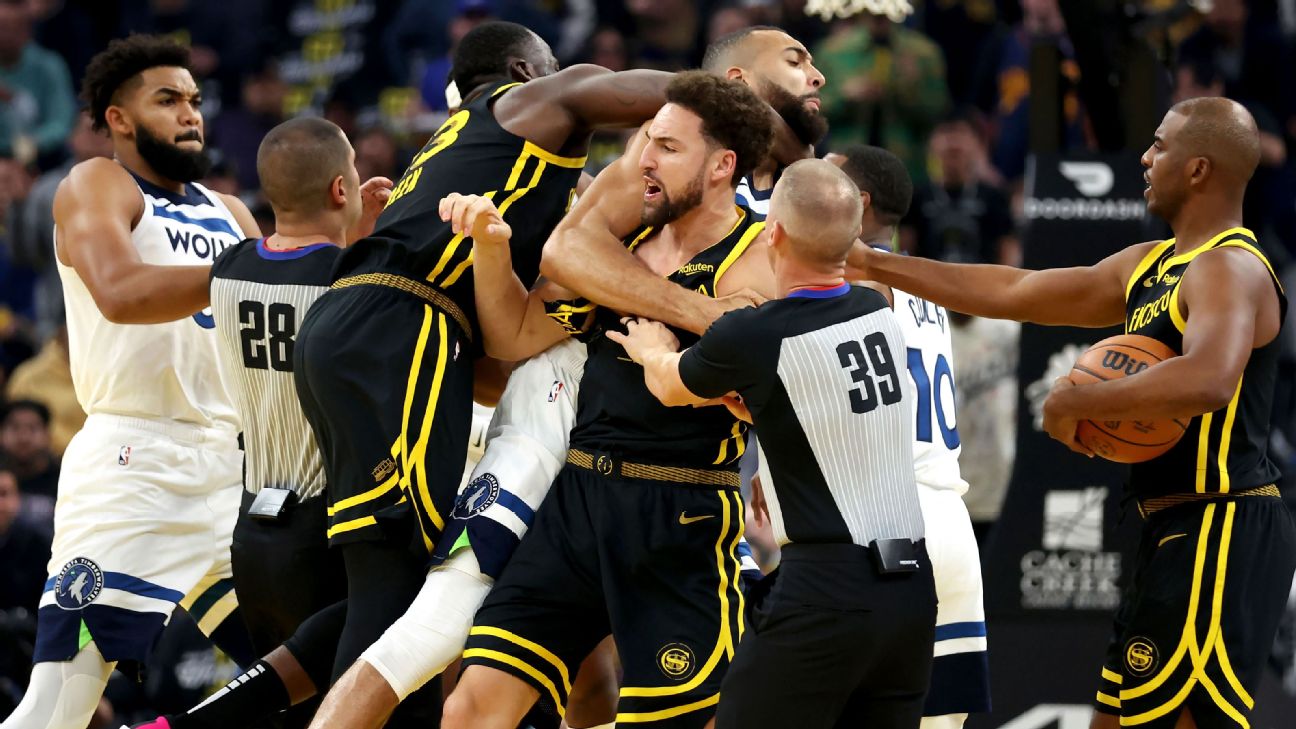 The NBA has suspended Golden State Warriors forward Draymond Green for five games without pay for "escalating an on-court altercation" in Tuesday's contest with the Minnesota Timberwolves, the league announced Wednesday.
Green, one of three players ejected after a fight during the in-season tournament game, was suspended for "forcibly grabbing" Rudy Gobert around the neck "in an unsportsmanlike and dangerous manner," NBA executive vice president Joe Dumars said in a statement.
Dumars said Green's history of unsportsmanlike conduct played a role in the length of the suspension.
Klay Thompson and Jaden McDaniels, who also were ejected, were fined $25,000 along with Gobert for their roles in the incident.
Green will miss two games against the Oklahoma City Thunder in addition to matchups with the Houston Rockets, the Phoenix Suns and the San Antonio Spurs — the last one as part of the in-season tournament. He also will lose $769,970 as a result of the suspension.
This is his fifth career suspension. Most recently, Green was suspended for Game 3 of the first round of the playoffs against Sacramento last season after Green stomped on the chest of Kings center Domantas Sabonis.
Most notably, Green was suspended for Game 5 of the 2016 NBA Finals.
Just 100 seconds into Tuesday's game, McDaniels and Thompson got tied up with each other in transition, as Thompson held McDaniels' jersey while he waited for a long rebound. McDaniels grabbed Thompson, and both refused to let go as they moved down the court.
They began to swing each other around and push, resulting in McDaniels ripping Thompson's jersey and Thompson swinging his arm at McDaniels.
As other players rushed toward the two, Green put Gobert in a headlock. Coaches and players forced Green off Gobert as others separated McDaniels and Thompson. After a review, McDaniels and Thompson were assessed two technical fouls each, and Green was given a flagrant foul 2.
Gobert voiced his displeasure with his fine after the Timberwolves' game against the Suns on Wednesday night.
"Every situation is different, but to me, that was more than just a reaction. That was a personal attack," Gobert said. "Me being fined when I was being a peacemaker, and I chose to keep my hands up while I was being assaulted, it's shameful. Shameful. And I'm going to appeal that fine."
Green has a contentious history with Gobert. In 2019, Green teased the French big man for crying when he wasn't selected as an All-Star that year. Green brought up that same incident three years later on a TNT broadcast, saying, "You keep mentioning me in the same sentence with him; we're not alike."
After Green punched former teammate Jordan Poole during training camp last season, Gobert tweeted a cryptic message, saying, "Insecurity is always loud." Green threw that same line back at the Timberwolves center after Gobert hit his Minnesota teammate Kyle Anderson later in the campaign, adding that he thought Gobert was "a little on the softer side."
This is Green's second ejection of the season. He was tossed against the Cleveland Cavaliers on Saturday after receiving two technical fouls.
ESPN's Adrian Wojnarowski and Kendra Andrews and The Associated Press contributed to this report.
[ad_2]

Source link