With less than two months to go until the Iowa caucuses, former President Donald Trump remains the commanding front-runner in the state that leads off the Republican presidential nomination calendar.
But a prominent social conservative leader in Iowa — a state where evangelical voters play an outsized role in Republican politics — said he believes Trump is still beatable.
"You're seeing the field naturally coalesce. It's getting smaller and smaller," Bob Vander Plaats, president and CEO of The Family Leader, a politically active and influential social conservative group, told Fox News Digital as he pointed to the winnowing of the 2024 GOP presidential field.
Noting that the former president's under 50% support in the latest polls in Iowa, Vander Plaats predicted that Trump's backing might be as low as 35% by the time of the Jan. 15 caucuses.
TRUMP, DESANTIS OR HALEY – WHO BENEFITS AS TIM SCOTT DROPS OUT OF THE RACE?
"There's definitely a shot that the former president can be beat here," he argued.
Vander Plaats, who's likely to endorse one of Trump's rivals in the coming weeks, was interviewed on the eve of Friday's Family Leader presidential Thanksgiving forum. 
Joining Vander Plaats for what's being described as a "family discussion" will be Florida Gov. Ron DeSantis, former ambassador to the United Nations and former South Carolina Gov. Nikki Haley, and biotech entrepreneur Vivek Ramawamy. Haley and DeSantis are currently battling for a distant second place behind Trump.
WITH NINE WEEKS TO GO UNTIL THE FIRST VOTES IN THE GOP PRESIDENTIAL NOMINATION RACE, THIS CANDIDATE REMAINS IN THE DRIVER'S SEAT
Trump was also invited to Friday's forum, but is not attending. He also skipped the Family Leader's summit in July, which attracted nearly the entire field of presidential contenders.
Vander Plaats, who's long had a rocky relationship with Trump and who has argued that it's time for new conservative leadership, said that the former president's "absence communicates a lot to our base."
"It's a forum he'd want to take advantage of and remind our base of all the good things he did while he was president," he said.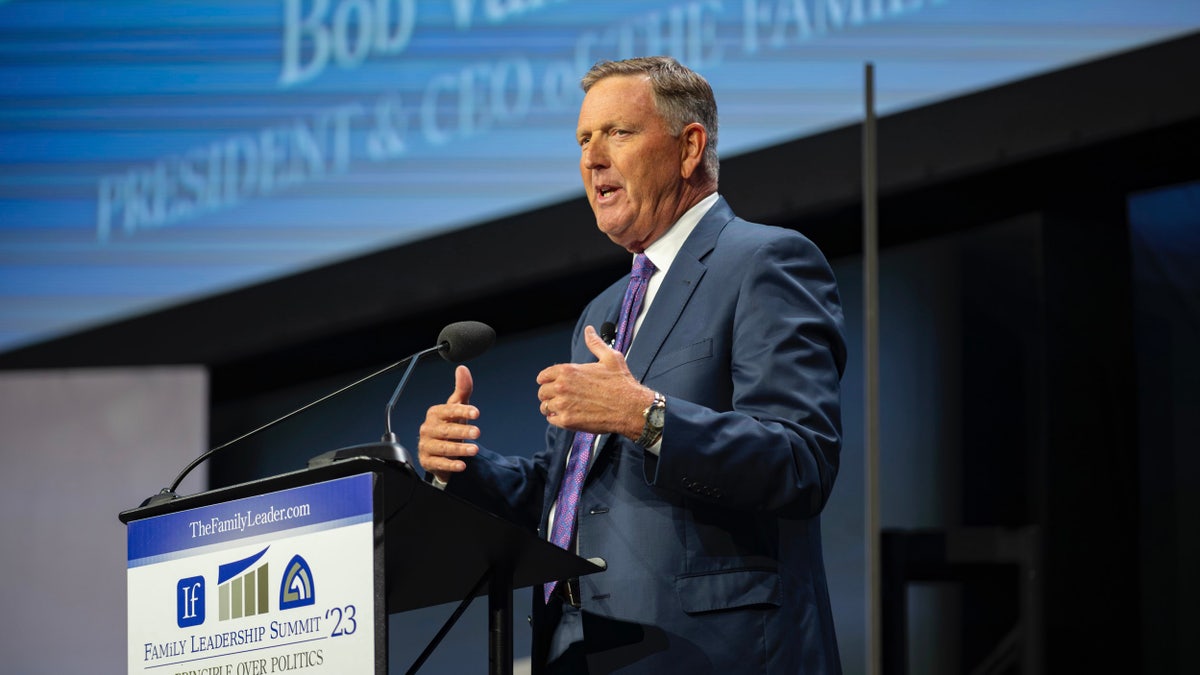 Vander Plaats reiterated that his likely endorsement "will be sometime after the forum and before Christmas."
While there's the possibility that the endorsement could come from the Family Leader, Vander Plaats said "my guess is…it's a personal endorsement and not a ministry endorsement."
And he said that his support would be much more than a one-day announcement, emphasizing that "I'll do whatever I can to make the endorsement stick and see what happens."
FORMER GOP PRESIDENTIAL CANDIDATE URGES SOME REMAINING CONTENDERS TO FOLLOW HIS FOOTSTEPS
In a major boost for DeSantis, who has staked his campaign on winning in Iowa, the Florida governor landed the endorsement earlier this month of Gov. Kim Reynolds, who's very popular among Hawkeye State Republicans. Reynolds' backing helped DeSantis alter a negative narrative.
Vander Plaats, who has repeatedly showed praise for DeSantis this year, said the Reynolds endorsement of the Florida governor "will weigh in on my discernment. But that won't make my endorsement."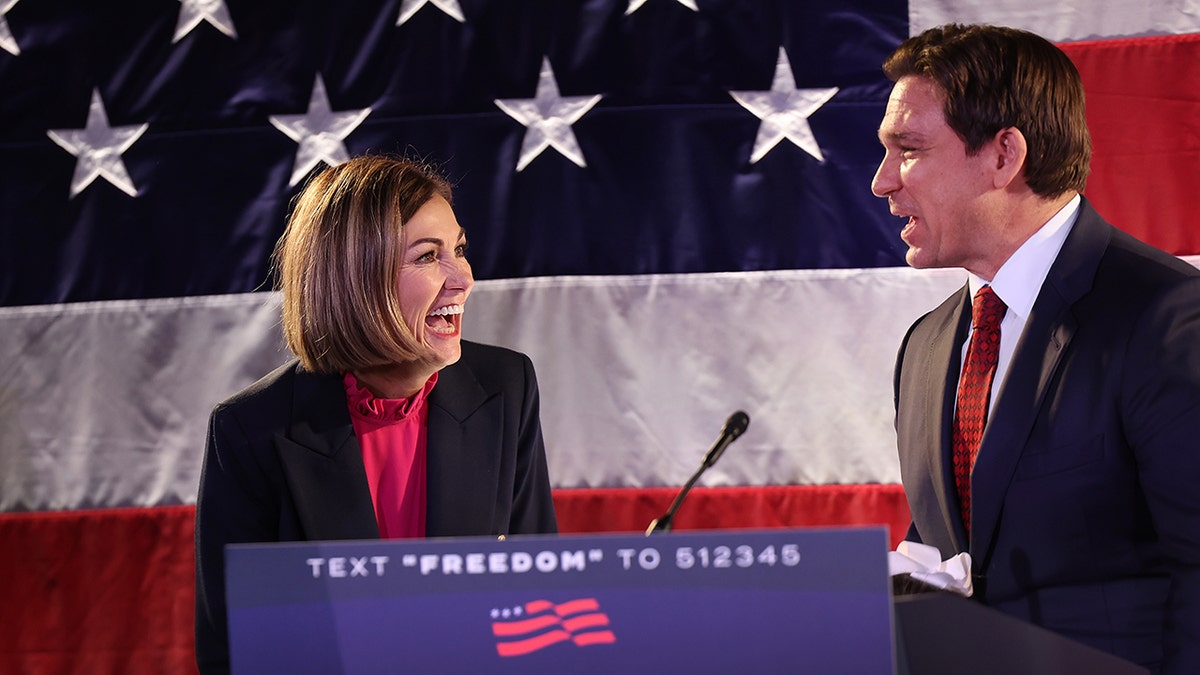 Vander Plaats backed former Arkansas Gov. Mike Huckabee in 2008, former Sen. Rick Santorum of Pennsylvania in 2012, and Sen. Ted Cruz of Texas in 2016 — all three of whom went on to win the Iowa caucuses, but failed to capture the GOP presidential nomination.
Ahead of Friday's forum, Trump's political allies have dismissed the importance of a Vander Plaats endorsement.
A recent memo from veteran Republican pollster Tony Fabrizio, who among other things conducts surveys for the Trump-aligned super PAC Make America Great Again Inc., argued that a Vander Plaats endorsement would have "no significant impact" on the caucuses.
Pointing to polling he conducted in September, Fabrizio charged that "while the DeSantis camp will try and spin that a Vander Plaats endorsement will revive their sputtering and shrinking campaign, cold hard data tells a much different story." 
CLICK HERE TO GET THE FOX NEWS APP 
Asked about the criticism, Vander Plaats told Fox News "my endorsement means one vote. Beyond that, we'll see what happens."
But he added "I think their obsession with my endorsement probably would indicate that they're more fearful of it than they should be."
Trump's allies also call into question $95,000 in payments earlier this year from the DeSantis campaign, and a super PAC and nonprofit group aligned with the Florida governor, to the Family Leader. 
The funds paid for three pages of ads for the campaign and the aligned groups in a booklet distributed by the Family Leader at their July presidential forum, which drew some 2,000 social conservative Iowans.
The big question going forward is whether the Reynolds backing of DeSantis and the pending endorsement by Vander Plaats can make a dent in Trump's commanding lead over the rest of the field.
Nicole Schlinger, a longtime Iowa-based strategist with close ties to evangelicals, argued that endorsements only go so far.
"I think what matters more to Iowa caucus goers than anything is meeting with the candidates and getting their questions answered about their policy positions," she told Fox News. "Endorsements, whether it's the Governor or Bob Vander Plaats, can shine a light on the campaign, and then it's up to the candidate to seal the deal."
Get the latest updates from the 2024 campaign trail, exclusive interviews and more at our Fox News Digital election hub.