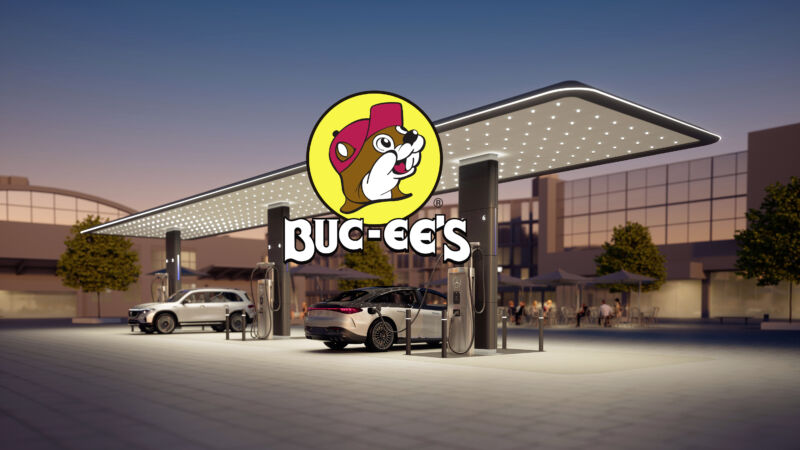 Fast electric vehicle charging is coming to Buc-ee's, the Texas-based travel center chain with a cult following. On Thursday it announced a partnership with Mercedes-Benz to build charging hubs at Buc-ee's travel centers along major transit corridors in the South and Southeast, including I-75 and I-95. The announcement says that "about 30" should be operational by the end of 2024, but that Mercedes plans to build charging hubs at most Buc-ee's locations.
Last week Mercedes revealed it is also partnering with shopping center operator Simon to bring Mercedes charging hubs to at least 55 Simon properties across the US and Canada.
Mercedes revealed in January it was getting into the EV infrastructure game with a plan to build out more than 400 charging hubs by 2027, under the Mercedes-Benz HPC North America banner. To do so, it partnered with ChargePoint, which provides EV charging solutions, as well as MN8 Energy, a solar and battery-storage company that will mean the Mercedes charging hubs will use entirely renewable energy to recharge their customers.
Mercedes-Benz HPC predates a more recent announcement from Mercedes and six other automakers that are creating an additional fast-charging network. While we know that other—as yet unnamed—network plans include both CCS1 and NACS plugs, there's no word yet which cables will be attached to the Mercedes-Benz HPC chargers.
However, Mercedes was one of the first automakers to ditch CCS1 for NACS, so it's probably safe to assume both kinds of plugs will be represented, particularly as ChargePoint now has NACS support. And it's important to point out that all EVs will be able to use these chargers—they're not restricted to just Mercedes EVs.
"Mercedes-Benz HPC North America's collaboration with Buc-ee's represents an important moment in our pursuit of a national charging network that sets a new standard in both convenience and quality," said Andrew Cornelia, president and CEO of Mercedes-Benz HPC NA.
"Within a remarkably short period, we've made significant strides towards opening several charging hubs at Buc-ee's travel centers. Buc-ee's strategic locations along major travel routes, combined with their commitment to clean and accessible amenities, aligns perfectly with our vision. Together, we're not only providing exceptional value but also redefining the EV charging experience for drivers nationwide," Cornelia said.
Ars is fortunate to have a Buc-ee's expert on staff, in the form of senior technology editor Lee Hutchinson. "As a native Texan, seeing a Buc-ee's sign on the horizon means great bad food and clean bathrooms, not necessarily in that order. Glad to see that EV drivers will soon have access to Buc-ee's strategic jerky reserves," Hutchinson told me.