[ad_1]

New York City Mayor Eric Adams said on Monday that Washington D.C. "has abandoned us" in regards to the ongoing migrant crisis the city and other parts of the country are facing — days after he announced stinging budget cuts to education and policing due to the crisis.
"D.C. has abandoned us, and they need to be paying their cost to this national problem," Adams said during a town hall in Brooklyn, according to Politico.
The "sanctuary" city has seen over 130,000 migrants come into the city since last year, a relatively small number of which have been bussed in via Texas. 
NEW YORK DEMOCRATS OVERWHELMINGLY SAY MIGRANTS 'SERIOUS' PROBLEM: POLL
While it's just a fraction of the more than 2.4 million migrants encountered at the southern border in the last fiscal year, the city has been overwhelmed, with Adams warning the crisis could "destroy" the city and demanding more federal help.
Last week Adams announced cuts across all government agencies due to the city having spent $1.45 billion in fiscal 2023 on the migrant crisis and nearly $11 billion expected to be spent in 2024 and 2025.
His office said that the New York Police Department will freeze hiring to bring numbers below 30,000 by the end of fiscal year 2025 from over 33,000. There will also be deep cuts to education, including the universal pre-kindergarten program, and sanitation.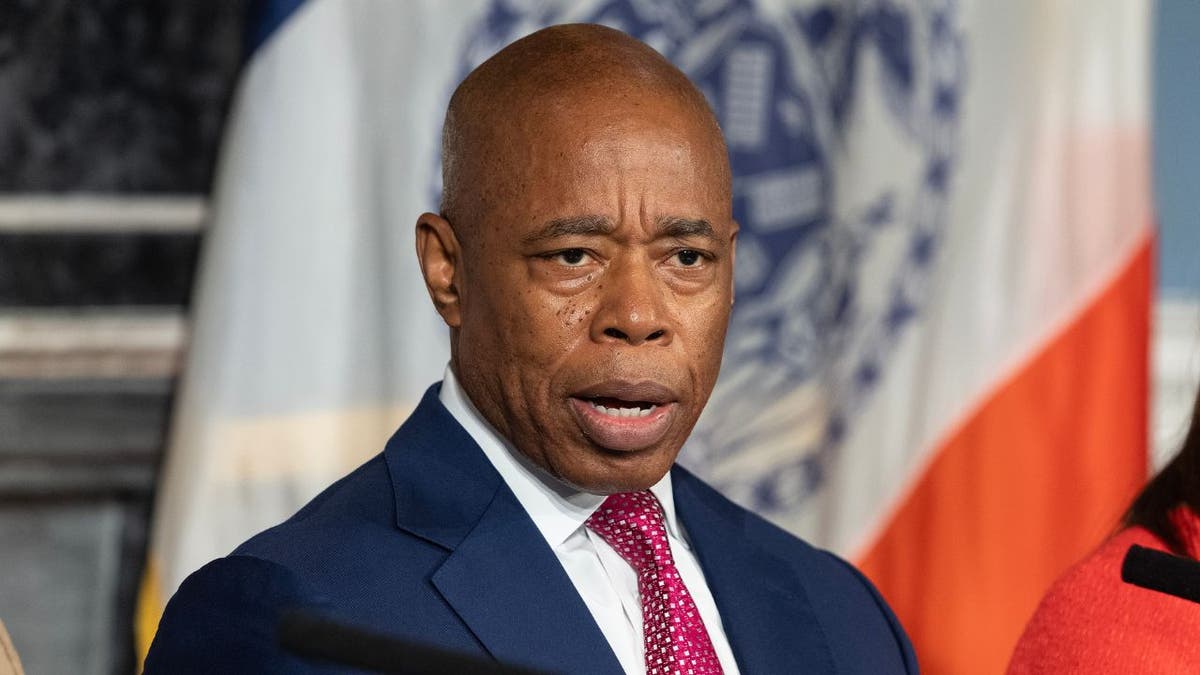 The budget cuts drew fury from the city's teachers and police unions.
"This is truly a disaster for every New Yorker who cares about safe streets," police union President Patrick Hendry said. "Cops are already stretched to our breaking point, and these cuts will return us to staffing levels we haven't seen since the crime epidemic of the '80s and '90s."
Adams has told residents to blame the feds.
NEW YORK CITY TO REDUCE POLICE NUMBERS, SLASH BUDGETS DUE TO BILLIONS SPENT ON MIGRANT CRISIS 
"I tell people all the time when they stop me on the subway system, 'Don't yell at me, yell at D.C.,'" Adams said on Monday, according to Politico. "We deserve better as a city."
But the Biden administration has pointed to more than $770 million it has given out to support communities taking in migrants in the last year and recommendations its teams of experts have made.
It has also deployed personnel to help with authorizing work permits and to educate migrants on the immigration system, a DHS official said recently. 
NYC MAYOR ERIC ADAMS SAYS PARENTS MAY NEED TO HELP IN PUBLIC SCHOOLS AMID MIGRANT CRISIS
Separately, the White House has requested an additional $14 billion in emergency funding for border operations, which includes an additional $1.4 billion in grants to help local governments and nonprofits.
CLICK HERE TO GET THE FOX NEWS APP
Meanwhile, more Democrats in the Empire State see the crisis as a problem. A new survey from the Sienna College Research Institute found that 75% of New York Democrats see the migrant crisis in the state as a "very serious" or a "somewhat serious" problem, with 47% of the respondents saying it's dire and 28% saying its somewhat consequential.
Fox News' Joe Schoffstall contributed to this report.


[ad_2]

Source link